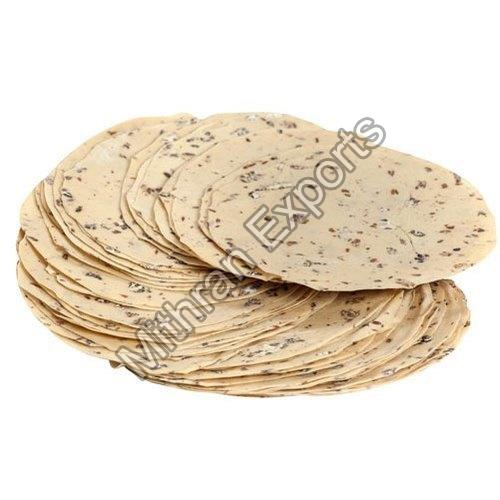 Urad dal papad is the most loved and typical accompaniments to an Indian meal. Made of urad dal, these thin wafers can be eaten roasted or deep-fried. Providing the right crunch and a burst of flavours to your mouth, delicious urad dal papads can transform a boring meal like khichdi or dal rice into a mouth-watering one.
Loaded with immense flavours and great taste, these papads can be enjoyed as a snack or an appetizer for a complete traditional meal. Available in various sizes and shapes, urad dal papads can be flavoured with seasonings like back pepper, cumin, chilli and other spices or herbs.
Whether you simply roast urad papad and take it as a side dish with your traditional Indian meal or top it with some onion, tomato and lemon salsa to enjoy as a crunchy snack, these papads always taste super delicious.
Why urad papad is god for health?
Made of dried urad dal, these papads are a great source of protein, folic acid, fibre and other nutrients.
It is a high protein, gluten-free snack that can be enjoyed by people of any age group at any time of the day.
It is high in fibre but low in calories, hence you can eat it without worrying about weight gain.
It acts as a probiotic and promotes the secretion of digestive enzymes in your gut.
It may help improves the absorption of macro and micronutrients from your food.
Offering a wide assortment of superior quality urad papad at a highly competitive market rate, the exporters and suppliers from India have established a strong foothold in the global market. Their offered range of papads is widely endeared for their purity, crunchiness, great taste, nice flavours and longer shelf life. Following are some of the key factors that the exporters of Urad papad from India always take into consideration to stand tall in this domain.
The exporters source these papads from reliable vendors and make sure that they are made from pure urad dal and other spices.
They offer urad papad in various shape, sizes and flavours as per the diverse needs of customers.
They ensure that their offered items are examined by a team of experts on various quality parameters before sending them to the marketplace.
They provide flexible payment modes for hassle-free money transactions for clients
They use high-grade packaging solutions to increase the shelf life and retain the freshness and crunchy taste of the papads.
Supported by a wide network, logistics and transportation, they can easily cater to the bulk or urgent requirements of urad papad across the globe in the stipulated time frame
They always maintain transparency in all their transactions and direct all their activities to cater to the expectations of their customer.
Widely praised for its crunchy taste and enticing flavours, urad papad is a tasty treat that goes well with one-pot meals like khichdi, veg pulav etc. Give your boring meal a delicious twist with spicy urad papads!
This entry was posted on April, 26, 2021 at 18 : 45 pm and is filed under Agro Products. You can follow any responses to this entry through the RSS 2.0 feed. You can leave a response from your own site.