Urad Papad – Delicious And Healthy Option To Add To Your Regular Diet
Posted by Admin on September, 16, 2021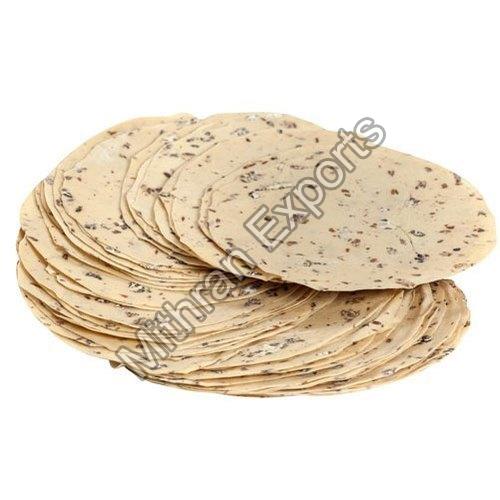 Urad Papad is a healthy and delicious option. It can be easily enjoyed by adults and kids. Urad Papad Exporters from India assure for the delivery of the best products.

India is popular for its diversified food culture, diverse range of cuisines, and unique techniques used for cooking. No holiday of a foreign tourist is complete without enjoying special food items. Papad is one of the most special dishes made in India and is liked by millions of people. Different ingredients can be used in the manufacturing of papad.

Papad is known as a thin and crunchy wafer to add to every Indian meal. No matter, it's masala papad or rice papad, poppadum, or urad papad, our taste for the papad is just an eternal one. In the past, Indian women spend hours in their household making them.

However, there is a change in our lifestyles. Now, we prefer to buy these papads directly from a nearby store. All we need to fry them in oil and get ready to enjoy something tasty.

Urad dal papad is a renowned vegetarian side dish greatly popular in India. Moreover, they are known as a renowned protein-packed snack all across the world. We normally purchase them from the market. A simple kneading technique is required to make urad dal papads. The flour of Urad is kneaded perfectly with the masalas. After getting dried, the homemade papads can be stored for a long period. You can enjoy them during tea time, lunch and dinner.

What are the top benefits associated with eating papad?
• It works as a good appetizer
• It boosts the digestion
• If added to your diet in moderation, you can enjoy amazing protein and nutrients performed by additional ingredients.
• They are gluten-free food items.
• It possesses a dietary fiber
• Papad is having a low-calorie snack
• Papad works as a probiotic snack that digests macro and micronutrients directly from the food you consume.
• You can also look ahead with a healthy metabolism.

How to store papad to keep them in good quality?

The packet of the paper should be stored in an air-tight container.

Normally, the shell life remains up to 1 year. However, every manufacture offers its expiry date. Some of them call them perfect for just six months.

To increase the shelf life of the papad, you can occasionally put it under sunlight. All the ranges of papad supplied through Urad Papad Exporters are fresh. It is suggested to buy small packets if you are using them for personal use. The exporters make sure for the proper packing and hygiene of the packets. The papad has a lower level of sodium and gives numerous health benefits to the users.

If you wish to place for the papad, you can easily find an exporter online. Before placing an order you should the rating and quality of the offered products by the manufacture. A good food item is always good for our health.
This entry was posted on September, 16, 2021 at 14 : 44 pm and is filed under Urad Papad. You can follow any responses to this entry through the RSS 2.0 feed. You can leave a response from your own site.