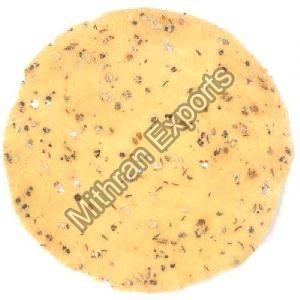 Papad is thin, crunchy wafer that completes every Indian cuisine. Whether it's masala papad as a chakna with your drinks, plain sabudana papad the love affair of Indians with papad is an eternal one. Earlier, women in the households would gather together on the terraces to slice, peel and sundry these disc-shaped wafers. Overtimes with sky rise buildings and changed lifestyles we have resorted to buying handmade papad in packets from the stores. These are a good option as all it takes is frying in hot oil and savouring it to the last bit. These super addictive snacks unquestionably in Indian cuisines give every meal an X-factor.
Types of handmade papad supplied by Hand Made Papad Exporter from India:
There are two basic kinds of papad available online like north Indian papads and south Indian papads. North Indian papads can be served fried as well as roasted. But south Indian papads are good to taste only when it's fried.
Have a look at the variety of papads you can buy online:
• Bikaner papad
• crushed papad
• Kerala papadum
• mini papads
Flavours of papad you can buy from Hand Made Papad Exporter From India:
Rice Papad
As the name suggests, this variety of papad is made of rice and is less spicy. It is light to eat and can be consumed anytime.
Garlic Papad
Indian restaurants serve food with this variety. Garlic with its distinctive, pungent smell and taste makes people either love it or hate it. If you're that garlic lover, then this condiment makes everything savoury taste better,
Ragi Papad
This Maharashtrian delight has superb brown colour and a somewhat more granular texture to it. The use of ragi gives it the additional health benefit along with its distinctive colour, texture and taste.
Kali Mirch Papad
It gives just the right amount of heat being added with extra spices like black pepper and papad hits your palate on the right note. Yet, you can't help approaching your hand to grab another one.
Sabudana Papad
For those who do not like spices, it is the perfect option. Tapioca pearls prepare the white bubbly looking Sabudana papad widely enjoyed during festive occasions or fasts like Navaratri. Sabudana papad usually are spiceless.
Aloo Papad
Prepared with boiled and crushed potatoes, with some salt, aloo papad is the crispiest snack popular in places like Delhi, Uttar Pradesh and Punjab. Not just this, it is also a regular dish on the Holi menu.
Hing Papad
This flavouring agent has a special aroma and taste. Have Hing Papad to make simple dal and rice taste super exotic.
Well, there are other choices in flavours available at Hand Made Papad Exporter From India like jeera papad, urad dal papad, plain urad papad, etc.
Health benefits of eating papad
• great appetizer for health
• act as a probiotic
• supports assimilation and digestion
• enhances secretion of digestive enzymes and juices
• essential for metabolism and hence acts as a digestive
Features of Hand Made Papad Exporter from India
• a wider range of high-quality papad
• handmade varieties
• affordable pricing
• wide distribution network
• on-time delivery